NEWS ARCHIVES
11-10-2013

(Photo Courtesy of MonsterJam.com)
The 2013 season has come to a close for Charlie Pauken, and he went out with a bang overseas in Stockholm, Sweeden. After a strong showing in Helsinki, Finland the week before with three victories on the weekend at Hartwall Arena, Pauken and Grave Digger were ready to close out the year with at least one more victory. The massive floor of Friends Arena gave the Monster Jam trucks plenty of room to play, with some massive freestyle obstacles, and a large Chicago Style racing course. Pauken performed well in racing, knocking off Wolverine in round one. In round two Pauken defeated Spiderman to move on to the semi-finals, where his racing effort would be cut short following a loss to Blue Thunder.

With just one more competition left for the season, Pauken let it all hang out with a fantastic freestyle run. The performance saw plenty of massive air out of the Grave Digger as he soard the black and green wrecking machine over the jumps with ease. Big air, huge sky wheelies, combination moves, and plenty of momentum would put Pauken over the competition, picking up the freestyle victory to put a stamp on the 2013 season. Check out the clip below to see the run.
Now the preparation for 2014 begins and it'll be yet another busy year for Charlie Pauken. Check out his schedule below to see where he'll be this winter on the 2014 Monster Jam Tour.


6-18-2012
Charlie had a bout of bad luck in New Jersey, with the truck experiencing mechanical difficulties in racing and breaking early in freestyle.
"Sometimes there's just nothing you can do," said Charlie. "My equipment and crew are great, but we just got some bad luck and that's it. I felt good about my runs in Philadelphia and Baltimore, though!"
Stay tuned for more from Charlie.
6-15-2012
Charlie hopped back behind the wheel of Monster Mutt for the first time since the World Finals and had an outstanding freestyle in Philadelphia, falling a few points short of a victory that some say he deserved. Check out the video below, and stay tuned for more video from New Jersey this weekend!
2-15-2012
Charlie had some bad luck in Anaheim, with an early breakage in freestyle. You can see the video and photo of him blowing through a camper. He looks to rebound in Los Angeles this weekend and thanks his fans for all their great support!
2-8-2012
Charlie swept all three freestyle competitions in Peoria, Illinois, proving once again that he is near unstoppable in a small arena setting. Wheelies, slap wheelies, and momentum were the tricks of the day, and Charlie loved performing in a place he hadn't visited in quite awhile. Enjoy the videos above, and stay tuned for results from Anaheim!
1-29-2012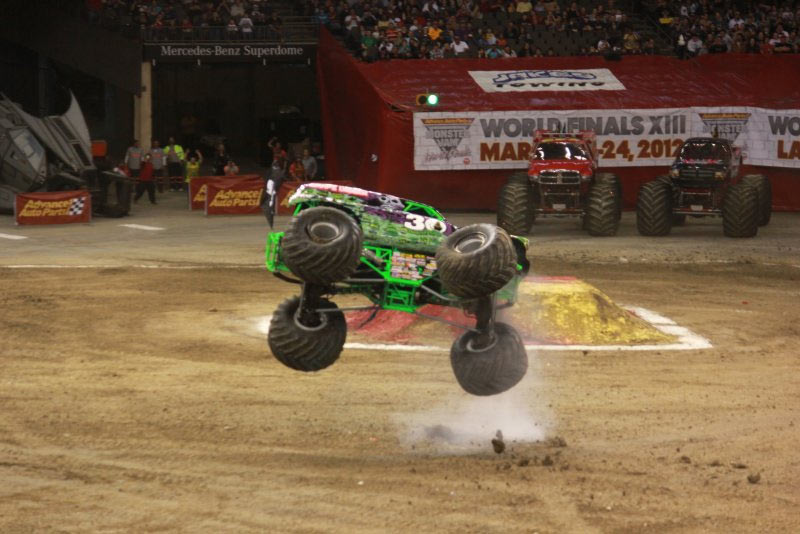 Charlie had a carnage-filled weekend before freestyle even started, cartwheeling Grave Digger during racing. His great crew had the truck ready for freestyle, and he battled through the mechanical gremlins to place near the top. Enjoy the video and photo above (courtesy Jeremy Verret). Next, Charlie heads to Peoria, Illinois for some small-arena mayhem. We will give you all the details afterwards
1-22-2012
Charlie goes all out in freestyle, and Houston was no exception. With a full house once again at the Reliant Stadium show for the second week in a row, the freestyle-only format offered a chance for Grave Digger to shine. Charlie came up just short of a win, but got incredible air and towards the end of his run, took an awkward bounce that rolled the truck on its side after breaking a four-link bar. Charlie continues his tour of demolition in New Orleans, Louisiana next weekend. Check back soon for more!
1-19-2012
Charlie dominated Tacoma, winning nearly every event and leaving the fans on the edge of their seats with sky wheelies, slap wheelies, donuts, and of course, the Chuckie Dance. This week it's on to Houston for what Charlie hopes is more of the same--winning, and thrilling fans nationwide!
1-7-2012
Charlie rang in the new year in Des Moines, Iowa this weekend with a freestyle victory on night one (see above), and we'll have photos and coverage when all is said and done. Check out his 2012 schedule in the meantime!
11-2-2011
Charlie was back at it again this past weekend in Helsinki, dominating the weekend's events and being a "ballhog" as he called it. Enjoy one of his freestyle runs below:
9-25-2011
Charlie uses his time off to conserve energy for runs like this, the winner in Arnhem, NL this weekend:
8-30-2011
Charlie has been enjoying time at home lately, helping Charlie Jr. race his quarter midget and looking forward to getting back on the road. More to come soon!
6-27-2011
Madrid kept the ball right on rolling for Charlie, and he took a wheelie contest victory, and nearly won freestyle as well. An earlier-than-expected rollover cost him a shot at a victory, but nonetheless the crowd was entertained:
6-6-2011
Once again, Charlie took a wild ride and a freestyle victory, this time on the SPEED Channel opener in Philadelphia driving Grave Digger 20. A final-round racing appearance was followed by the dominating freestyle and victory below:
5-31-2011
Ladies and gentlemen, Charlie Pauken:
Charlie simply dominated in Derby, winning three of four events, including every freestyle. More to come, as he heads to Philadelphia this weekend!
5-26-2011
Charlie heads overseas for Derby, UK and a great series of events competing against Tom Meents and the rest of the best in Monster Jam this weekend in Grave Digger. We'll have all the results afterwards, but for now, check out our updated VIDEOS SECTION, complete with old-school Excaliber action!
4-5-2011
Returning to Vegas as the reigning Freestyle Champion, Charlie was the odds-on favorite for a repeat in Monster Mutt, but it was not to be. After a very promising start, a "ten-cent piece" (as Charlie called it) failed, ending his night and dashing any hopes for said repeat.
"It was a tough deal, but there was just nothing I could have done," he said. "I wish I could have made a full run and defense of the title, but hey, sometimes bad luck gets you."
Charlie will have his full second quarter schedule online soon, as well as videos and photos from the old-school days and a full interview in the future!
3-26-2011
We asked Charlie a quick question about what it was like to win the World Finals Freestyle Championship last year:
AllMonster.com-Charlie, tell us what was running through your mind from the time you freestyled last year until you got word that you'd won.
Charlie Pauken-It was really cool to pull off the win in Vegas last year; I actually doubted myself a lot, and I didn't know if it'd work out. I had to go out there and try hard, and I was real worried. It was a big, technical course, so I couldn't roll the dice early, and a lot of guys got bit because of that. I got up early that morning because I couldn't sleep, and I walked the track with nobody around and got my lines down, and my safety lines. I basically thought out the coolest line to make it happen, look good, and not jeopardize the run. I also had to be complete time-wise; if you don't finish the time, there's no way you'll win. When I saw Dennis' run and the rear tire came off, it was like, "That's it! I finally won!" I didn't feel like it was everything I could have done, and had my doubts going up to the hot seat, but Scott Douglass said, "It's in your grasp," and I knew I had something then. It was tedious watching everyone else run. I just figured after that, what happens, happens.
Be sure to wish Charlie good luck on a back-to-back win in freestyle this year!
3-26-2011
Charlie is ready for Vegas! Check out the interview below:
http://www.youtube.com/watch?v=1r8UKLCBscQ&feature=player_embedded
3-15-2011
Charlie rebounded from a lot of breakage in Tucson to go into Winnipeg and took two racing victories to go with one freestyle on the weekend. Check out the video above, and look for an interview and some Excaliber photos soon!
3-11-2011
Charlie continued an outstanding season with more great runs in Tucson, and heads to Winnipeg, Manitoba this weekend! Enjoy the video.
3-3-2011
Charlie warmed up for the last month of the first quarter with an outstanding freestyle run in Oakland that ended with some breakage on Grave Digger, but many happy fans:
Look for an interview with the 2010 Monster Jam World Finals Freestyle Champion soon, as well as updates to the Excaliber portion of the site!
2-24-2011
More fantastic performances have been Charlie's mode of operation for the past couple weeks, including successful and winning trips to Anaheim and a muddy Los Angeles show:
Next up for Charlie is a show in Oakland, California, the site of the infamous "Mud Bowl" show. More to come soon!
2-11-2011
It was another fantastic weekend for Charlie, with a near clean sweep of the weekend's events in Edmonton, and freestyles like this, refusing to give up even with a truck that isn't 100%:
We also have updated our Photos section; enjoy!
2-1-2011
Charlie ended January on the highest of high notes, taking home a huge freestyle victory that made it two roll-saves in two weeks:
"It's always great to win freestyle; everyone knows that's my game," said Charlie. "I was even more happy to be able to do it with my son in the house, and on a big stage like Lucas Oil Stadium."
The 2010 World Freestyle Champion continues his tour this weekend in Edmonton, Alberta. We'll keep you posted!
1-27-2011
It was an interesting weekend in Toronto for Charlie, as he made a final-round appearance in racing and "forfeited" both of his freestyle scores to do dual freestyle with Grave Digger teammate Randy Brown. Highlight moments ensued:
This weekend Charlie heads to a huge event at Lucas Oil Stadium in Indianapolis. We will have photos from there, so be sure to check back with us!
1-20-2011
Charlie had what he calls an "up and down" weekend in Columbia, South Carolina, experiencing some mechanical problems that included a blown ring gear in introductions on Saturday.
"Skooby, Big Rob, Garret, and everyone else on the crews pitched in and got me ready for freestyle, and I went out there and did the best I could before I had a few transmission issues," he said. "I want to thank them for all their hard work. Sometimes things don't go the way I want, but I know that it'll improve, and if the truck takes the beating I put on it, things will be just fine."
Charlie was able to cut a few donuts and work within the confines of the small arena, however. Enjoy the video above, and we will check back in with a few surprises and updates from his next show in Toronto!
1-12-2011
Charlie started his defense of his 2010 World Freestyle Championship at Ford Field in Detroit, and promptly laid down a classic Pauken freestyle that fell just short to Tom Meents' flip-save, earning Grave Digger a second-place finish:
"There's not much you can do when Tom goes out and rolls it and keeps going," said Charlie. "My run was pretty good and I'm looking to continue doing well throughout first quarter."
Charlie was also presented with his invitation to drive Monster Mutt again this year in Las Vegas at the World Finals.
"It's an honor to be selected to drive again, and I appreciate everyone on the Monster Mutt team running that truck throughout the year and being so gracious as to let me in it during Vegas. I can't wait!"
Next up for Charlie is a big event in Columbia, SC. We will keep you posted on results from there!
12-22-2010
Charlie has a fantastic 2011 Schedule, and it's available now! See where the 2010 World Freestyle Champion is headed this season!
11-30-2010
Another column from Scott Douglass at MonsterJam.com highlighted Charlie again:
http://www.monsterjam.com/Columns/The_Insider/2010/11/23/
11-16-2010
Charlie took Stockholm by storm, dominating the weekend! The 2010 Freestyle World Champion is in form for the upcoming season. Check out the video above, and look for some Excaliber updates in the future!
11-4-2010
Check out Scott Douglass' column on Charlie; a great read:
PAUKEN IS HIS OWN TOUGHEST CRITIC
10-19-2010
After a great weekend in Arnhem, Charlie took Cardiff by storm, turning in another outstanding freestyle performance. Enjoy!
9-30-2010
Charlie had another successful weekend behind the wheel of Grave Digger at a televised show in Arnhem, Holland's Gelredome, capping his weekend with a no-doubt freestyle victory (seen above, full results HERE)! Enjoy the video!
9-23-2010
Charlie was simply dominant in Birmingham, not taking a loss in any of the competitions on the weekend (full results HERE), sweeping the Maniac Challenge and Freestyle events. The video above is from one of his outstanding freestyle runs.
"I was pleased to get a wheelie to slap wheelie into a car set in such a small area," said Charlie. "I love challenges, and that's something not too easy to do."
Charlie continues his Europe tour with a big stop in Arnhem, Holland this weekend, looking to add to his impressive win streak.
9-14-2010
So much for rust! A whirlwind weekend in Antwerp, Belgium saw Charlie take victories in all three racing (Maniac Challenge, an obstacle course that is timed) competitions, and two out of three freestyles. Highlights are below, but first, enjoy a classic clip from Charlie's Excaliber days!
and of course, the highlights from Antwerp, including a hard roll in freestyle:
9-11-2010
Charlie is in Europe for a three-week tour in Grave Digger, and will also be doing the Birmingham, Alabama show later this year. Thanks for the information, Charlie! Look for results and thoughts from the 2010 World Freestyle Champion soon!
8-12-2010
Charlie made a special appearance with Mike Nickell at the Monroe, Michigan Midwest Monster Truck Events show, taking the restored original Excaliber for a spin in front of the fans. Enjoy the photo and another angle of Charlie's winning freestyle in Monster Mutt at World Finals 11:


8/5/2010
Charlie enjoyed some time with his son at the Toledo Monster Jam as only the 2010 Freestyle World Champion could--checking out Charlie Jr.'s quarter midget!

6/7/2010
The Pauken Archives


Check out this photo from last year's Monster Jam Europe Tour. A young fan made this great sign for Charlie!
5/29/2010

Charlie enjoyed another fine weekend of spectacular freestyle in Gothenburg, Sweden, including the spectacular freestyle above.
What's next? Who knows, but Charlie will be driving and defending his 2010 Freestyle Championship whereever he is called to do so. 5/26/2010

Charlie proved once again why he is the 2010 Monster Jam World Finals Freestyle Champion with the above outstanding run in Copenhagen. He also made the racing finals, losing narrowly to George Balhan in Mohawk Warrior before mechanical problems sidelined him. We will have more from Charlie's European experience soon!

5/19/2010
Charlie is headed to Europe with Grave Digger, Copenhagen, Denmark to be exact. May 22 and 23 will feature some great monster truck action with Charlie freestyling Grave Digger and thrilling fans. Charlie's Schedule is also updated. Bad News driver Bruce Haney recently had high praise for Charlie on MonsterJam.com:
"Now thinking about some standout guys that really bring my blood to a boil as far as being at the starting line with them, you have to start with Grave Digger of course. Charlie Pauken," Haney told me. "I bought my first truck from Charlie. He's one of the guys that I wish that I was 20 years younger and could just travel with him for a season. I've watched people who have traveled with him for a season and then seen how far they've progressed and it's just amazing. I was so glad to see him win the World Finals this year; he's just one of those great guys."

4/29/2010

Charlie has enjoyed a bit of downtime since his big championship freestyle victory, including an "Excaliber Reunion" of sorts at the Silverdome in Pontiac, Michigan on April 17, where Mike Nickell and Tim Bush were present, among others. He will be hitting the road soon for the Monster Jam Europe tour behind the wheel of Grave Digger; for now, check out our updated Photos and Links sections, as well as the link below to some old-school photos of Excaliber and Charlie:
WILDMAN JEFF COOK WEB SITE-EXCALIBER-CHARLIE PAUKEN

4/6/2010
Check out Charlie's speech at the World Finals Awards Banquet, an interview at the banquet, and his winning freestyle run below:
3/27/2010

(Photo By: Dustin Hart)
Congratulations to Charlie Pauken the NGK Spark Plugs World Finals Freestyle Champion! For more information on the World Finals visit MonsterJam.com for the latest information.
3/15/2010
Congratulations are in order for Charlie Pauken, as he once again has qualified for the Monster Jam World Finals. Charlie will be driving Monster Mutt aiming for a freestyle championship, and let us know about his plans for the event.
"I'm not real worried about the show itself," he said. "It's either gonna flow in freestyle and things will fall into place, or it won't. I'm excited for the opportunity!"
He warmed up for the World Finals by enjoying a great weekend near his hometown, taking Toledo by storm. "I was most happy with the wheelie contest one night; I stuck the wheelie bar in the dirt past the cars, took it to the 'negative zone,'" he said.
We will have more online shortly!
3/9/2010
Charlie took a trip to London, Ontario to entertain Monster Jam fans north of the border, and came away with mission accomplished. He once again demonstrated his superior control of the truck, winning races and thrilling the crowd in freestyle. Next up is a hometown show in Toledo, Ohio! We will keep you posted on all news Charlie Pauken and update the site with some more photos and videos soon!
3/1/2010
Macon, Georgia was the next stop on Charlie's tour of the nation in Grave Digger, and Charlie turned it out, winning five of the six competitions on the weekend (two racing victories and a three-race weekend sweep of freestyle!). Full results are HERE, enjoy the video below:
The week prior, Charlie proved once again why he is one of the elite drivers in monster trucks in Worcester:
Charlie also had another great weekend in Rosemont prior to Worcester (photo courtesy Terry Plum):



2/8/2010
Following a tough outing in New Orleans Charlie Pauken was in Charleston, West Virginia this weekend for three shows at the Charleston Civic Center. The weather outside was cold and harsh but Pauken was on fire throughout the weekend. After the dust settled Pauken managed to come away with a weekend sweep of events with a total of nine wins on the weekend to cap off his birthday Saturday. Pauken will be in Rosemont, Illinois this weekend for a four show weekend at the Allstate Arena. For more information on this event or to see where Charlie is headed next visit our schedule page.
2/5/2010

(Photo Courtesy Jeremy Verret)
Charlie had some bad luck in New Orleans, but is staying positive for his upcoming show this weekend. "I was going pretty good in racing, and then the rear steer actually activated on its own and I was done for," he said. "Freestyle I had the misfortune of a sway bar deciding it was its time to go as well." Although the bad luck was on a big stage, Charlie is staying motivated and focused; Charleston, West Virginia is next!
1/29/2010
Charlie took Houston by storm, dominating the freestyle-only event as a tune-up for this weekend in New Orleans. Check out the video of his run above.
1/18/2010
Charlie enjoyed another fantastic weekend in Greensboro, including one of his trademark slap wheelies while waving to the fans. Enjoy the video and teaser photo for now; we'll have a full gallery online soon!
1/14/2010
Welcome to CharliePauken.com! We're proud to announce the arrival and opening of Charlie's web site. In typical Pauken fashion, there was no taking it easy the first weekend of 2010 in Manchester, New Hampshire. Full results can be seen HERE. Chuckie knew he had to put Grave Digger #22 in the winner's circle, and that is exactly what he did the majority of the weekend. The object and "holy grail" of Monster Jam's wheelie contests are to get the truck straight up and down, a 90-degree angle. Charlie did even better as seen in the videos above. Since the body was trashed after that, Charlie was able to see a bit better for his freestyle, and dominated (video also above).

We have the schedule page online, and will have much more shortly. Charlie heads to Greensboro, North Carolina this weekend, and Dustin Hart will have all the photos and coverage! Be sure to keep checking back for regular updates on all things Charlie Pauken, and thanks for visiting!